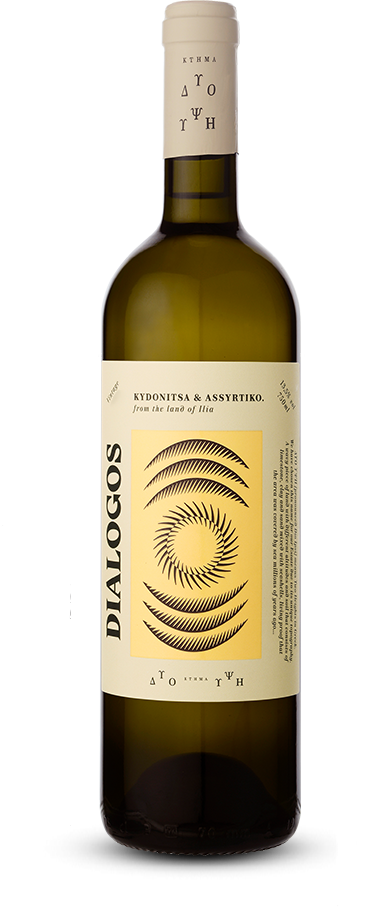 DIALOGOS
KYDONITSA & ASSYRTIKO
"A genuine blend that holds the elegance of Kydonitsa and the edginess of Assyrtiko"
Winemaker's comment
Kydonitsa and Assyrtiko grapes were handpicked respectively early September and late August, subsequently destemmed and crushed, then skilfully fermented at low temperature in stainless steel tanks and left to mature on the lees for 4 months.
Our tasting impressions
This is a well-balanced dry white wine with bright freshness, minerality and an aromatic finish. It is characterised by an intense, expressive nose and palate with precise aromas and flavours of lemon blossom, quince, citrus and lime.
Serving suggestions
Dialogos White is ready to drink now but will keep 2 to 5 years. It is ideal as an aperitif and goes well with shellfish, fried white fish, seafood, creamy pasta dishes and poultry.
2022 – 13,5% vol. - origin Ilia - organically grown - serve at 10-12°C
Awards
«Decanter» 2023 / Vintage '22 / Silver Medal
«Thessaloniki International Wine & Spirits Competition» 2023 / Vintage '22 / Bronze Medal
«Thessaloniki International Wine & Spirits Competition» 2023 / Vintage '21 / Silver Medal
«Decanter» 2022 / Vintage '20 / Silver Medal
×